Let's get this straight, you're looking to buy an inflatable SUP and wondering if the iRocker Cruiser 10'6" standup paddleboard is a good choice? Simple: yes, yes it is!
Before you go and spend your precious coins on something else, you should find out why we think the 10'6 iRocker Cruiser will make you happy.
You can rest easy knowing other people like ourselves have already "bought and tried" and rate the iRocker Cruiser 10'6″ standup paddleboard highly.
Don't settle on only our word for it either. Many customer reviews after purchasing give this board a bright and beaming thumbs up nearly every time.
Already sold? Head there now!
WELCOME TO THE BEST REVIEW OF THE iROCKER 10'6″ CRUISER STANDUP PADDLE BOARD!
Specifications
| | |
| --- | --- |
| Length | 10' 6" |
| Thickness | 6" |
| Width | 33" |
| Weight | 25lbs |
| Capacity | 350lbs |
What You'll Get When You Purchase The iRocker Cruiser 10'6
The SUP Itself (You would hope)
iRocker Ergonomic Back Pack
Adjustable Fiberglass Paddle
iRocker Ankle Leash
Dual Action Hand Pump
Repair Kit
Review
iRocker Cruiser 10'6" Inflatable SUP
Construction -

9.5/10

Stability -

9.8/10

Tracking -

9.3/10

Accessories -

9.2/10

Versatility -

9.5/10
Summary
The iRocker Cruiser 10'6" inflatable paddle board is an affordable, stable and durable iSUP that is ideal for beginners and intermediate SUPers. The triple layer military grade drop stitch is very tough and almost feels like a hardboard. Included is a fiberglass paddle, carry backpack, leash and double action pump that makes this package a great purchase!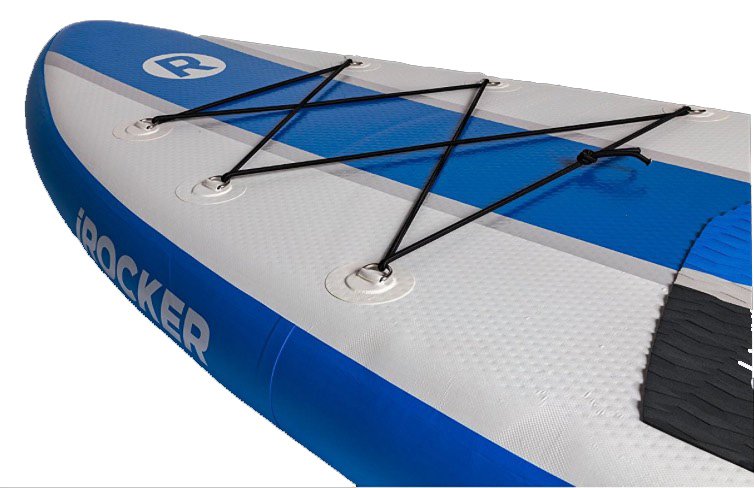 Materials
If for some reason you thought throwing your iRocker 10'6 Cruiser off a cliff face was a good idea, you would be pleasantly surprised to find it most likely intact and merely scratched at the bottom. Please don't throw your SUP off a cliff though.
Manufactured with – take a breath – Triple layer military grade drop-stitch material.
A big sentence with a big punch. You can shoot over here to get a full explanation or you can take our word for it when we say drop-stitching is the top-dog when it comes to durable manufacturing for inflatables. You'll see the same materials being used across all of the inflatable markets. When the crowd says yes, you know something's got to be right.
Increased Deck Pad Area
The deck pad area has been improved from previous iRocker SUP's to cover ¾ of the boards surface area. The coverage of the deck pad provides stability for beginners and/or a yoga practice and comfort whilst fishing or kayaking (kayak bundle sold separately – see further down for more info).
D-rings + Secured Storage Space
6 non-corrosive D-rings with bungee tie-down are featured on the nose of your Cruiser. No better way to store your paddle, snacks or any extra gear you may bring along. Other iSUP's similar to the Isle All-Rounder 10'6 feature only 4 D-rings. The extra room makes a huge difference for long-haul SUP expeditions.
Aside from that, you'll find 4 more D-rings for your optional kayak bundle (separate purchase) around the middle of the board and one last D-ring at the tail for a safe attachment of your leash.
On the D-rings you can also click a special SUP dry bag, like the stylish designed DeckBagZ.
Fins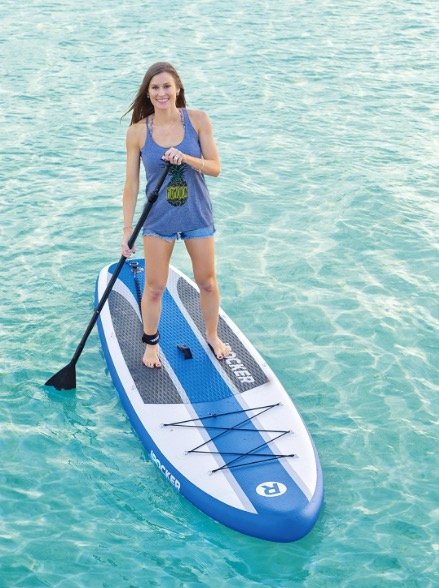 Head up, look forward and let the SUP do the rest. Part of the reason this board handles so well is the 3 fin setup, you'll find keeping a straight line impressively easy. Additionally, a contributing reason for stability is iRocker choosing to use the tri fin setup. iRocker made the center fin detachable for an easier pack down however the 2 side fins are fixed.
Portability
The iRocker Cruiser is ultra-portable. Why you may ask? Aside from the obvious that it's an inflatable, the new improved carry bag iRocker designed, of which the iRocker Cruiser was the first receiver, makes long distance walking with your SUP a breeze.
The bag has full support around the waist and shoulders as well as generous padding. Inside and outside the bag are straps to stop your gear shifting around causing uneven weight distribution. There's also a large amount of extra space in the pack even after packing in the bag, paddle, and pump.
Finally, the board itself has a material handle in the middle for after inflation transportation.
Inflate/deflate
Pumping your board to the recommended pressure which is 15 PSI is a walk in the park. The provided dual action pump delivers you your fully inflated board in half the time by pumping air in every time you push down or pull up.
Deflation is even more simple. Open the valve and push the little pin in and voila! You can roll your board up and store it neatly away in the carry bag.
Overall Performance
You can't get much better for a cruiser style board even at higher prices.
Sure, you would want something more streamlined like the iRocker Sport if you're planning to head into rapids or race, but if you are looking to purchase a general use SUP that can handle it's own in chop, flat water, long distance touring or small surf look no further.
Upon looking at the dimensions on the board, the 33" width does wonders for the stability of the board. To add on to that stability, the tail is generously wide and 6" thickness ensures a solid platform for any rider.
Stability is a key factor for SUP beginners and any sports means such as yoga, fishing etc. However, sometimes the way stability is manufactured can be hindering on maneuverability.
That is not the case with the 10'6 iRocker Cruiser, the overall shape of the board and the slight rocker in the nose makes your iRocker Cruiser extremely responsive when turning.
If you look at some other boards on the market that are similar such as the 10'6 Isle All-Rounder their max capacity is 240 lbs. The iRocker Cruiser is 350 lbs. Even if you don't need that extra weight what that is telling you is, that you've got a buoyant board that will feel rock solid no matter what the conditions are when you go paddling. However, if you are still finding the 10'6 iRocker Cruiser wobbly, you can also upgrade to the 11' Cruiser!
The only downfall is speed, for all the stability and ability to perform in chop/small waves, the board has lost out on speed. This doesn't mean the iRocker Cruiser is slow, far from it, it only means you'll be wanting something different if you are really desiring speed over anything else.
Accessories
The paddle
As far as included paddles go, the iRocker fiberglass paddle is a huge stand out in the crowd. Often the included paddle is more for convenience than the quality. Not in this case though! Fibreglass paddles are half the weight of aluminum paddles and are longer lasting. The paddle floats adjusts to your perfect height and packs down into 3 pieces for optimum portability. Around the paddle blade, you'll see a rubber edging that ensures blade longevity from pushing off/away from objects.
Backpack
The backpack of the iRocker Cruiser 10'6″ has been improved a lot compared to the previous model. It's comfortable and easy to take your inflatable paddle board with you, together with all its accessories.
Ankle Leash with Key Holder
iRockers designers haven't even got lazy when it came to the leash – most boards don't even include one! Not only have they included their own but this leash has the ability to stretch 5X its length making certain no board will come slingshotting back at your face if you happen to take a plunge. Also for your convenience and safety is a stash spot on the ankle for your keys.
Dual Action Pump
Dual action pumps are fantastic for inflating iSUPs in half the time however many users report finding it very difficult past about 10 PSI, a little pro trick, switch the pump back to single action. You'll find it incredibly easier. You won't even notice this ultra-lightweight pump in your pack either.
Repair Kit
If anyone manages to puncture this board please comment below! I can imagine it would have to be an entertaining tale as to how you could puncture a board this tough. If god forbid you do, no worries to be had, a simple patch up out of the included repair kit will get you going again in no time.
(Separate Purchase) Kayak Bundle
If you are feeling a sit down is in order, you can purchase a kayak bundle separately. This is ideal for fishing and/or long distance trips. In the purchase, you'll receive a comfortable, cushioned seat that is easily attached by the 4 D-rings located in the middle of the SUP. Also in the bundle is another blade which is a simple addition to the other end of your paddle, turning your stand up into a sit-down!
Pros
Stable
Cost $$
High-quality accessories
Beginner friendly
Ultra-portable
All necessary startup equipment included
Handles up to 350 lbs
Cons
Only available in one color
Produces drag depending on rider
Conclusion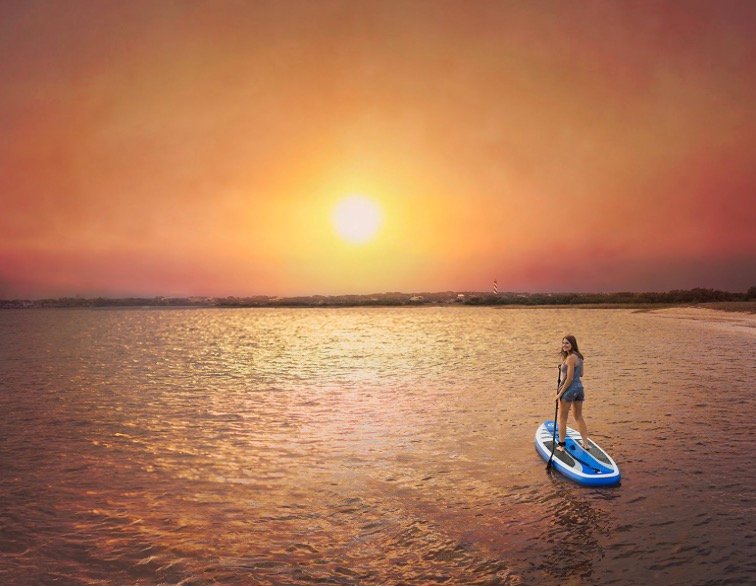 Well if you look at the pros&cons above it pretty much sums it up for this inflatable standup paddleboard. There isn't much bad I can say, I actually tried to think of more cons because I know it looks like I'm being a pushy salesperson. I would rather look like that than be a liar!
All I can suggest for alternatives is if you want to get into racing or be able to cover long distances fast, try the iRocker Sport or Isle Explorer. If you want to surf your SUP and only surf it, look at the Fanatic All-Wave range (non-inflatable though). If you want to cruise or you are starting out then I honestly can't suggest a better board.
Don't go spend the same amount of money on a board that will be half the quality of the iRocker. We guarantee you'll be lucky to find another inflatable at this price, with this many features and high-quality accessories.
Buying the iRocker you have the comfort of a tough board, durable accessories and a reliable company that has a leading reputation in inflatable SUP's and all with a 2-year Warranty to solidify the promise.
Check it out now!